Taking one for the team....
26 May 2014 by Marc Taddei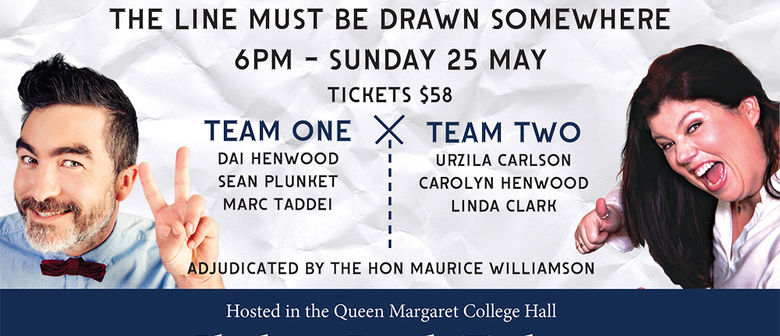 Music Directors, for better or worse are the primary interface between the orchestra and the public. They are a primary driver of programming and interpretation and many of us also try to connect with the public off the podium. For the most part this entails engaging with generous donors, sponsors, patrons, politicians and the wider orchestral family. I certainly believe in this approach and as a result have found myself in some unusual situations. For instance, I've been winched out of a helicopter in front of 100,000 people in Christchurch before a concert and have found myself on the top of the Auckland Sky City tower with only a flimsy looking safety harness to save me if I tripped!
Last Sunday I agreed to take part in a fun debate at the behest of my former General Manager, Diana Marsh. This was a fundraiser for Queen Margaret College in Thorndon – one of New Zealand's finest girls schools. The topic of debate was "The line must be drawn somewhere" and each team was meant to be captained by a great comedian. Unfortunately, Dai Henwood, my team's captain came down with a serious case of adult chicken pox so the Attorney General of New Zealand and Minister for Culture and Heritage, the Hon. Christopher Finlayson stepped in at the last moment. I thought we would be crucified by the other team as we did not have a comedian but in fact Chris was hilarious! He has a brilliant wit and I imagine that the cut and thrust of parliament prepares politicians very well for this kind of thing. Chris certainly had the crowd eating out of the palm of his hand!
I tried my best but felt a bit intimidated! I think a few of my jokes went over OK although suggesting that bagpipers walk while they play to get away from the sound might have been a ill-advised comment in a Presbyterian school!